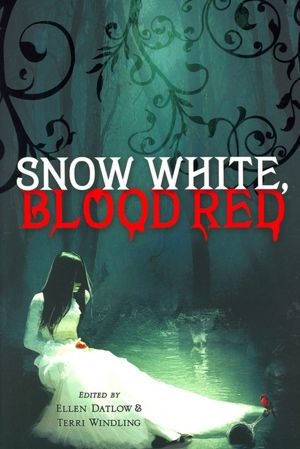 Snow White, Blood Red is an absolutely great compilation of adult fairy tales; returning the roots of such fables, the stories mixed modern flavor with ancient stories whose morals still ring true even in today's severely altered times. Including such notables as Tanith Lee and Neil Gaiman and edited by Ellen Datlow and Terri Windling, the writing styles vary in style from full prose to poetry.
My favorite was a retelling of Hansel and Gretel set in WWII, called "Breadcrumbs and Stones" by Lisa Goldstein. A daughter learns the truth of her mother's coldness; simply that it was not that she could not love, but that she was afraid to because of the events of her childhood. The story unfolds slowly, revealing the ugly villains nearer to the end and blurring the lines between reality and fairytale. It's an incredibly heavy and moving story that nearly brought me to tears upon finishing it.
Another that caught my attention was "The Princess in the Tower" by Elizabeth A. Lynn, which took the tale of Rapunzel in a completely new direction. In a land where a person is literally the measure of their girth, Magheritina is a tiny little thing that all consider sickly. All the relatives of her mother are constantly poking their noses in, offering various pieces of advice about what could be wrong with the young girl. It offers an interesting perspective on the idea of beauty and desiriability. It's the complete reverse of what our society considers to be beautiful. The heartwarming ending brings Magheritina to a happy finish, in love with her husband and having many children of her own.
The entire book was so engrossing that I was surprised when I finished it. Each had its own lush description, literally bringing the characters to life and leaping from the page, while the environments appear to be available should the reader merely step through the book itself like the doorway it had become. I highly reccommend this book - it was a bargin bin buy from my local Barnes & Nobles, in its 10th edition, but I've seen it on
Amazon
as well.
While on the topic of fairytales, I would definitely like to reccommend Neil Gaiman's
Snow, Glass, Apples
, taking the tale of Snow White and adding vampires in a very twisted fashion.